More trips will be scheduled soon
Oyster farm tours will start in June 2018, during the Shellfish festival and are sold out. We will try and do some more Oyster Farm Tours in September, when the cooler weather makes for better oysters.  On these trips we visit a floating deep water oyster farm to learn about this eco friendly operation.  Hollie Wood Oysters is an extraordinary company that is totally into sustainable aquaculture.  On the trip back to Comox we will sample some of their fresh product prepared by the Chef on-board.  Like our Facebook page, and you will be the first to be notified when new events come up for sale.
2018 Boat Cruises
The following is a list of short trips and full day tours we offer departing from the Comox Harbour. Some of these trips are available on a per person basis on scheduled trips that run during the summer. All trips are available as a private tour by chartering the whole boat.  Those of you that are interested in chartering the boat for your own custom tour by the hour or the day check out our Private Boat Charter page.
---
Friday Afternoon Scenic Cruises  1-4 PM
Next trip TBA
$65 per person, 3 Hr.
This cruise is often scheduled to run on Friday afternoons.  On this trip we will plan the route on the day of sailing to create an adventure suited to the weather. Typically we would head down past Tree Island and into Baynes Sound.  The return trip would follow the opposite shore past Union Bay & Royston.  Bring your camera & cooler and enjoy an afternoon on the water.
---
Estuary Eco Tours
Beginning in 2018
If you are interested in the history & wildlife of the Comox Valley, you will want to join us for this informative cruise.  Dr Betty Donaldson (also know as Courtenay Betty) will be on board to share facts and stories of this amazing area.  Our local waters are part of the second most important estuary in B.C., after the Fraser River.  Find out why on this trip that goes up the Courtenay River & out into Baynes sound looking for wildlife & historical sights.  The departure dates & time vary to take advantage of high tides so we can venture into the foreshore areas that are rich with life.
---
Courtenay River Estuary Cruise
Next Trip July 11th.  7:00-8:30
Boat Charter $320, $35 per person, 1.5 Hr

This is another scheduled cruise we do for weekend evening  high tides. We leave Comox and head up the Courtenay River to the 17th Street bridge. On the return trip we head over to Royston to view the historic wrecks, a great place for pictures. We then cruise by the end of Goose Spit and out past HMS Quadra cadet camp before returning to the Comox marina.
---
Baynes Sound Cruise # 1
This trip is an example of whole boat charters we do.
Boat Charter $520, Approx. 2.5 Hr

Cruise by Tree Island and across to Union Bay, returning along the shoreline of Vancouver Island to Comox. If interested we could linger around the Wrecks of Royston and talk of their histories, or stop for pictures of the seals and sea lions sunning on the log booms. If we are lucky we may see porpoises that are often in this area. Bring snacks and drinks for a relaxing viewing of Comox Valley.
---
Henry Bay Picnic
This trip is an example of whole boat charters we do.
Boat Charter $520,Approx. 3 hrs

It is a 40 minute cruise by Tree Island.  Weather conditions permitting, we can transfer passengers ashore to explore the many beautiful beaches. There are no fires allowed, but you can BBQ on the boat or take a picnic to the beach.  If the tide is right you can climb over the bow, by ladder, onto the sandy beach. (You may get your ankles wet).  We also have a 6 person Zodiac to transfer people ashore. (You may still get your ankles wet).
---
Baynes Sound #2 Chrome Island
This trip is an example of whole boat charters we do.
Boat Charter $1000    $95 per person      5 Hr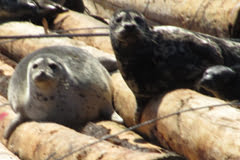 Cruise down Baynes Sound to Chrome Island lighthouse. Baynes Sound is very sheltered and almost always smooth sailing but Chrome Island is on the edge of the Salish Sea and exposed to wind. There is a story about the rediscovery of the petroglyphs on Chrome Island and if the conditions are favourable we could go ashore for a look. There is a lot to see on the trip down and if weather permits we would return by Lambert Channel between Hornby & Denman Islands. Bring your camera, lunch and beverages and enjoy a day on the water.