OYSTER FARM TOURS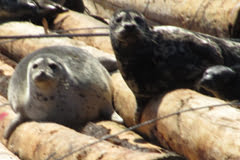 From May to September we team up with Hollie Wood Oysters to let the public view up close the workings of a deep-water oyster farm. I supply 2 seats for a chef of Hollie Woods's choice so they can show their chef and customers how their product is raised.  In return they supply us with a 30-minute demonstration and fresh oysters that we sample on the cruise home.  Each chef brings a different taste to the cruise.   Hollie Wood Oysters specializes in small plump oysters, which are perfect for eating raw. Raw oysters are not for everyone, but most people tried at least one with the special sauces we supply. You can't get any fresher than this.
Sept. 5th with Ryan Culford
                
Ryan works at the Kingfisher Resort as a sous chef.  I had the pleasure of meeting him and his family as we did a cruise up the Courtenay River to plan for this Oyster Tour.  He was very enthusiastic and wanted to use fresh ingredients from the Comox Valley and his garden.  The bacon came from Tannadice Farms;  the beer was an Irish ale made at Grape Expectations;  the seafood, of course, was all local.  Ryan's homemade salsa for the oysters & beer bacon steamed mussels were a big hit
We will start oyster farm tours in early June. 
  Call or E-mail to get on one of these tours.  www.comoxharbourcharters.com  250-339-5326