The Denham Bay West Coast Adventure is an exploration of the natural and diverse beauty of the Discovery Islands. The Discovery Islands are located between Vancouver Island and the mountainous mainland, bordering the north edge of the Salish Sea. This area is ideal for exploring by boat. The maze of channels, inlets and islands offers many sheltered waters that are ideal for kayaking. Whales and dolphins frolic in these waters, while bears and eagles watch from shore.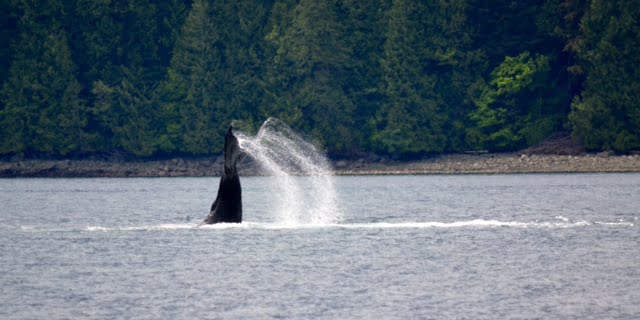 This marine adventure starts as soon as you board Comox Harbour Charters' vessel at Browns Bay Marina. Browns Bay is just north of Campbell River & the infamous Seymour Narrows. We head north up Discovery Passage and immediately enter a wildlife paradise. This area is steeped with natural beauty and history and the crew will share many stories & experiences with the passengers as we explore these waters. In the next four days the passengers will get to kayak and explore in some of the most beautiful waterways in the world. You will visit historic Shoal Bay for various scenic hikes along the beach, or up into an old Gold mine. This area is famous for viewing whales & dolphins. Fresh air and exercise always bring on a good appetite and our personal chef will create varied local delicacies throughout this adventure.
Denham Bay Lodge
Denham Bay Lodge, owned by Pete Geneau & Sarah Askwith, has four newly built cabins, each with 3-piece bath & set up for two people. A large covered outdoor kitchen is fully equipped with cooking supplies. The kitchen and the fire pit deck are the main common areas. There is also the owner's house that can be used if needed. Sarah is a professional gardener and the grounds show it. There are walking trails established and more are constantly being developed. On this trip meals will be supplied and prepared by a Chef and kayaks will be available.
 Peter and Sarah in the out door kitchen
Day 1
Pick up in the Comox Valley for a 1 hour drive north along the coast to Browns Bay
Depart Browns Bay on the MV Twee Schoenen, owned and operated by Comox Harbour Charters, for a 3 hour cruise to the lodge at Denham Bay
Lunch will be waiting at the Lodge
Kayak safety session and paddle to get familiar with the boats
Gourmet dinner
Relaxing evening to prepare for the next day of adventures
Day 2
After breakfast, cruise to Shoal Bay with the kayaks. Some may want to paddle this leg.
Paddle around Shoal Bay or hike up to the old gold mine
Lunch at the Shoal Bay Pub which has an outdoor Pizza Oven
After lunch explore the waters, with consideration of the tides and weather. The group will decide on the best kayak route.
Gourmet dinner back at Denham Bay Lodge
Relaxing evening around the fire
Shoal Bay is the sister city of Paris France, and before the turn of the century, was the biggest city on the west coast of Canada. Gold is what put Shoal Bay on the map, and the old road up to the mine is a wonderful hike with breathtaking views of the area. Shoal Bay is sheltered from the big winds and fast currents but these elements still need to be respected. The boat will stay close to the paddlers to be used for support and transportation as needed. The weather and tides will dictate the best paddle of the day.
Kayaking options include:
Shoal Bay is 7 miles from Denham Bay and is a great paddle, especially if you can pick up a 2 knot (4 KPH) current. Whales and dolphins are often seen in this area.
Estero Basin at the end of Frederick'sArm, which features a reversing river into a lake. If we have a high tide the group & kayaks would be delivered to the mouth of the river.
Cordaro Lodge is 5 miles north. The lodge features a pub.
Bickley Bay is 2 miles north and is a very sheltered & peaceful paddling area
Phillips Arm is across the channel and has large rivers known for fishing & grizzly
Day 3
Breakfast at Denham Bay Lodge
Cruise around Stuart Island
Head up Bute Inlet
Lunch on the boat
Set some prawn traps & fish for cod to go with dinner back at Denham Bay
Dinner at Denham Bay Lodge
Evening paddle around Denham Bay, possibly to Dent Island Lodge.
Stuart Island is the heart of this area and is at the mouth of Bute Inlet. In the past there was a pub & fuel dock in Big Bay.  Over the last 25 years, the small lodges have been bought up by the very rich.  Richie Brothers built an exclusive resort with a private airport.  Next door Dennis Washington's lodge boasts the most expensive 9-hole golf course in North America.  Across the channel is London Drugs' impressive luxury hotel, the Sonora Island Resort. The list of rich and famous people that own property in this area is impressive.  Most of these sites bring their fuel, food and beverages in by the barge load.  Since there is no longer a pub or public fuel dock, it is getting more difficult for the general public to enjoy this wonderful area. Denham Bay has solved this problem.  Situated just north of Stuart Island, this affordable lodge is situated in a protected bay, taking advantage of this spectacular area.
We will explore the turquoise waters of Bute Inlet. This spectacular wilderness setting features one of the most scenic waterways in the world. In the upper reaches of this dramatic fjord, the mountains rise 9,000 feet above sea level. As you turn the corner into Bute Inlet, the scenery changes to steep mountains covered with waterfalls and topped with glaciers. Orford Bay is the 1st major river system you encounter as you head up the inlet and is 3 hours from Denham Bay. If a whale show doesn't sidetrack us, we plan on having lunch here. This will be a full day on the boat with short excursions ashore when possible.
Day 4
Breakfast at Denham Bay Lodge
Departure time is dependent on route, weather and tide
Lunch onboard boat cruising home
Price: $1550 net per person (plus taxes), Canadian Dollars, based on double occupancy, for 8 people.
What is included:
All transportation & shuttles to & from Comox Valley
Exclusive use of the MV Twee Schoenen with captain and deckhand
All meals prepared by a Red Seal Chef from lunch on day 1 to lunch on day 4
Three nights accommodation. Two people per cabin
Guided kayaking, fishing, hiking and other activities
Kayaks & safety gear
Gratuities for meals and lodge
What is not included:
Payment & Cancellation
50% due upon booking
Balance due 30 days prior to departure
If cancellation is received prior to 30 days before departure, the 50% will be refunded less a $200 per person cancellation charge
If cancellation is received between 15 days and 30 days prior to departure, there will be a 50% refund
If cancellation is received within 2 weeks of departure, there is no refund
Dates: This trip is available for booking before June 14 and after Sept. 7 2015. We have 2 trips filled in the middle of May and would do more if needed, so contact us if you are interested in a trip like this. Please call or E-mail to inquire.
Danny Clair owns and operates Comox Harbour Charters. Call or e-mail for more information on this and other adventures on the water.
Comox Harbour Charters                                                    Phone 250-339-5326
288 Gladstone St.                                                                 Cell     250-218-9146
Comox BC Canada                           E-mail comoxharbourcharters@gmail.com
V9m-1×5